~THIS RETREAT HAS SOLD OUT~
But don't worry! We run retreats 2x a year, so keep your eyes peeled for our next retreat coming summer of 2023!
MEXICO CITY
October 27- November 1, 2022
Casona de Elefantes, Cuernavaca MX
When Grandeur and Magic meet, we call that Mexico City. Let me take you there 🌺


Our Home Base
Casona De Elefantes is a lush, rancho style villa tucked in the rolling green hills of Cuernavaca, MX.
Just 1.5 hours south of Mexico City, our luxury chateau is perched within a stone's throw of the excitement of the city, the solitude of the jungle, and every pleasure in between.
The opportunities are endless. The medicine is deep.
Welcome to Casona De Elefantes!
What's a Grounding Down retreat like?
At Grounding Down we believe in root medicine. In taking time to honor the pleasures that make you vibrantly alive and connect to the lifeblood of passion.
You know that electricity of being somewhere for the very first time? The flavors, the colors, the euphoria?
This retreat is no different. As a Xicana indigenous woman with deep love for my Mexican heritage, it is my highest honor to bring you home to the warmth of my motherland.
Comfortably situated 1.5 hours from CDMX, you'll have the daily option to soak up the romantic countryside of Cuernavaca, or opt for an adventure into one of the most spectacular cities on planet earth.
Every morning I promise you fresh coffee, bird songs, and an invigorating movement practice to get you electrified for the day.
And every evening, I promise grounding meditation, soothing breathwork, and the sweetest wind down this side of Tenochtitlan.
Everything in between is up to you ;)
Día De Los Muertos
What? Morgan plans a retreat in Mexico City that strategically overlaps with Día De Los Muertos???
Oye! Of course!
You may be familiar with the popular images of the sugar skulls on ofrendas, the altars dripping in marigolds, the full "Coco" fantasy, right? Amores, we are going there, and SO much deeper.
Honoring our dead is potent ancestral medicine, and we'll be in the epicenter of this healing energy when the veil is at its thinnest, the late hours of Halloween into the early hours of November 1st.
No te preocupes, we'll be soaking up this energy together, enjoying the annual parades, the face painting, the festivities, and placing cempasuchil (marigolds) on gravestones far and wide into the wee hours on the morning.
My fellow brujas? I'm looking at you. Your attendance is expected <3
LOCAL ATTRACTIONS
Cuernavaca sits in an opportune location that gives us easy access to several magical local attractions.
To the south, Los Jardines de Mexico, the largest floral garden in the world are only 40 minutes away!
The stunning, underground caves of Grutas de Cacahuamilpa National Park are just one hour from our villa.
To the north, a quick car trip brings you to Tepoztlan, a picturesque Mexican town dripping with Magical Realism. With archaeological ruins on top, and a bustling coloful market below, Tepoztlan is a shimmering jewel of Mexican magic.
Want to stay local? Downtown Cuernavaca promises The Palace of Cortes with murals by Diego Rivera, the Robert Brady House Museum, and the Morelense Museum of Popular Art.
Grab a cafecito and take an afternoon or two to enjoy the epic history of Mexican Muralism!

Our Healing Team
Because I love showcasing my homegirls on all of my retreats!
Haleigh Nicholas
Onsite Bodyworker
Haleigh is a licensed massage therapist who specializes in therapeutic deep tissue, Ashiatsu (barefoot massage), prenatal and soon to be certified in Maya abdominal massage. She holds a safe, non-judgmental space that will allow your body to fully surrender to receiving and healing. Her flow is deep, fluid and dynamic, she will guide your body into a euphoric state of bliss.
Haleigh will be available for booking throughout the duration of our retreat.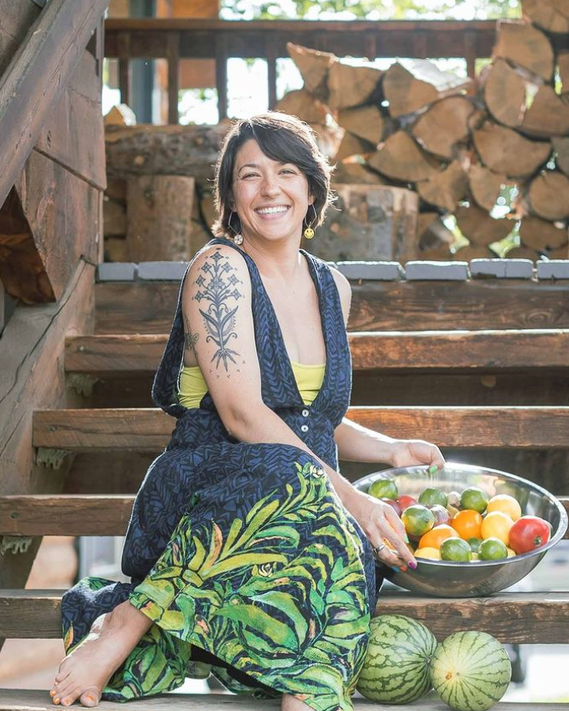 Katie Lee, Al Fresco Events
Retreat Chef
Katie Lee's love for creating and sharing nourishing eats comes from connecting with herself and others. Her food reflects her attention to dietary restrictions and needs while serving up a colorful and nutritious palate. After sharing a meal made by her heart you can't help to feel filled by the warmth of love.
SO WHAT THE HECK AM I PAYING FOR?
5 days, 5 nights lodging at Casona de Elefantes Villa
2 daily yoga practices with Morgan
Three healthy meals each day. Vegan, Vegetarian, Dairy and Gluten-Free options available
Group Cacao Medicine Ceremony
Excursion to Los Jardines de Mexico
Excursion into Mexico City for Día De Los Muertos parade + festivities
Coffee, tea and filter-water available all day
High speed Wifi
Transportation to and from Benito Juárez International Airport
INVESTMENT
Shared Accommodations- $1575
Private accommodations -$1600
................................................................
WHAT'S NOT INCLUDED
Airfare

Travel insurance (recommended)

Gratuities ($100 recommended)

Massages

Alcoholic beverages

Snacks, Smoothies, and Juices
Offsite excursions and dining
I can't wait to see you on retreat!
I love you, thank you for trusting me :)
Morgan